Pike Place Market
Pike Place Market
ASK ABOUT OUR BACK-TO-BACK SAME DAY WORKSHOP OFFER STARTING WITH A SIT-DOWN SESSION FOLLOWED BY A 3-HOUR DEMONSTRATION PHOTO SHOOT, LED BY A PROFESSIONAL PHOTOGRAPHER 
And in case you're interested, click here to check out some FREE SAMPLES of our ONLINE CLASSES
Pike Place Market began as a small farmer's venue early in the last century but has evolved to a dynamic setting rich with visual splendor, compelling environmental portraiture of visitors and vendors, waterside scenics, vibrant floral, fish and produce displays and street side people pictures.
Your DPA instructor will demonstrate an extensive variety of compositions and camera control strategies to turn casual snapshots into dynamic photographs that tell a story in a visually arresting manner. The techniques are easy to learn but powerful in their execution. If you are lucky the fisherman will be in the midst of tossing the local catch from the truck to the iced display rack, a golden chance to learn the art of panning. Your instructor will also share the composition options of Leading Lines, Rule of Thirds, Negative Space and many other techniques that you will inevitably use time and time again when out photographing on other occasions.
We will meet near the main entrance of Pike Place Market, at the intersection of Pike Street and 1st Avenue. Your instructor will be awaiting your arrival standing at the end of the island nearest 1st Avenue where an information booth is positioned.
Pike Street and 1st Avenue
Seattle, WA 98101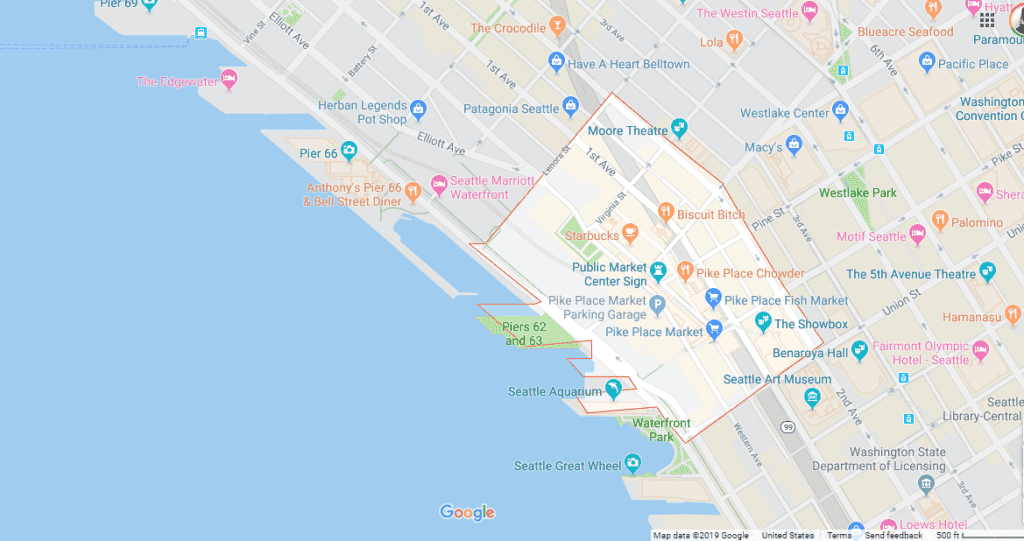 Call Digital Photo Academy at 1 877 372 2231. Lots of people seem to hang up if our welcome recording comes on instead of a live voice, but we promise to return your message within a day or two if you leave one with your name and number.  It would be even better if you included your e mail address as well as the date and city of the class you are considering.  If leaving a voice mail message is not your thing, please email us at DPAbooking@digitalphotoacademy.com or Richard@digitalphotoacademy.com.