Washington National Cathedral
The National Cathedral
The National Cathedral
Join our photo lessons at The National Cathedral, which is one of the excellent locales in the rotation of many Washington D.C. venues that offer terrific photo opportunities.
Undoubtedly the National Cathedral in all its grandeur has been photographed millions of times over the years, from locals to international travelers. Why not, it is an amazing structure both inside and outside and resulting photographs likely hang on walls and grace portfolios of favorite images.
However, these images herein clearly convey that some photos are stronger and more powerful than others. Join our DPA instructor at the Incubus, for an up front session on photographing indoor and outdoor spaces of architectural splendor.
You will learn some valuable lessons in photographic techniques at the National Cathedral. Our instructor will be there to provide hands on suggestions. After 3 hours in the field you will be able to make the mundane into a powerful image.
Washington National Cathedral
3101 Wisconsin Ave NW, Washington, DC 20016
$12 charge to enter the Cathedral. $8 for seniors and students or persons under 17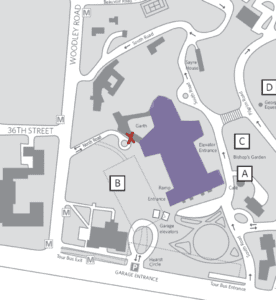 The students should meet at the entrance to the Garth, where it is marked by a red X on the map. 
The Cathedral parking garage charges a flat fee of $9.00 on Saturdays and there are entrances on Wisconsin Avenue and Woodley Road. There is also free parking along Pilgrim Road on the Cathedral grounds, though we can't guarantee availability. And folks can park in the neighborhood off of Woodley Road.
Call Digital Photo Academy at 1 877 372 2231. Lots of people seem to hang up if our welcome recording comes on instead of a live voice, but we promise to return your message within a day or two if you leave one with your name and number.  It would be even better if you included your e mail address as well as the date and city of the class you are considering.  If leaving a voice mail message is not your thing, please email us at DPAbooking@digitalphotoacademy.com.
ASK ABOUT OUR BACK-TO-BACK SAME DAY WORKSHOP OFFER STARTING WITH A SIT-DOWN SESSION FOLLOWED BY A 3-HOUR DEMONSTRATION PHOTO SHOOT, LED BY A PROFESSIONAL PHOTOGRAPHER 
And in case you're interested, click here to check out some FREE SAMPLES of our ONLINE CLASSES