Peter Thoeny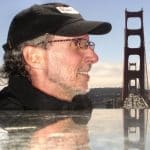 Peter Thoeny loves to travel and is fascinated with photography since high school in Switzerland. He first used a simple camera on his trips abroad, then for many years shot manually with a Rollei 35. Film was expensive in those days, and when traveling on a shoestring he had to carefully use and compose the shots. He learned to compose images when he did charcoal drawings and paintings while visiting Italy and other places in Europe. Peter now lives south of San Francisco in the Silicon Valley for 18 years.
Peter loves to travel with a small camera bag. He mostly uses a Sony NEX-6 mirror-less camera with a 50mm f1.8 prime lens, a 16-50mm zoom lens, and a 55-210mm telephoto zoom lens. He usually takes bracketed exposures and processes RAW images to get most out of a camera.
"Photography, as a powerful medium of expression and communications, offers an infinite variety of perception, interpretation and execution." ~ Ansel Adams
Inspired by this quote, Peter strives to compose photos that tell a story and evoke emotions. His motto is 20% gear, 40% composition, 40% post-processing. Peter specializes in quality HDR (High Dynamic Range) photography, which is his passion for the last 3 years. He uses HDR processing mainly to work around the technical limitations of cameras by carefully post-processing images with the goal to reconstruct the feeling and the emotions he had while taking the exposures. His images don't have this typical "HDR look" — most of the time you can't even tell they are HDR processed. The main purpose of the processing is to be able to look at an image on screen or print, and see what the human eyes actually saw out in the field — the best cameras, screens and prints are still no match to the quality of human eyes.
Peter sells HDR prints on his website at http://qualityhdr.com/ and posts HDR photos on Flickr at https://www.flickr.com/photos/peterthoeny/ on a daily basis.
Peter's other passion is to deploy collaborative technologies at the workplace, with the goal to make work more effective and transparent. He is the founder and CTO of TWiki.org, inventor of structured wikis, and co-author of the Wikis for Dummies book. Leading the open source TWiki project for many years, he learned to teach and learn in a collaborative way. He loves to teach photography in the same way.
Call Digital Photo Academy at 1 877 372 2231. Lots of people seem to hang up if our welcome recording comes on instead of a live voice, but we promise to return your message within a day or two if you leave one with your name and number. It would be even better if you included your e mail address as well as the date and city of the class you are considering. If leaving a voice mail message is not your thing, please email us at DPAbooking@digitalphotoacademy.com or Richard@digitalphotoacademy.com.